In short
Harmful blooms are recurring events, happening worldwide;
Australia and New Zealand have been experiencing the damaging effects of the blooms;
Some experts are concerned about toxin-producing organisms that have been linked to neurological disorders.
It's not just your local lake or reservoir; Harmful Algal Blooms (HABs) occur all over the globe. Due to rising summer temperatures, regions like Australasia are now experiencing the harmful effects of toxic algae. Countries are eagerly searching for solutions to mitigate this pressing ecological crisis.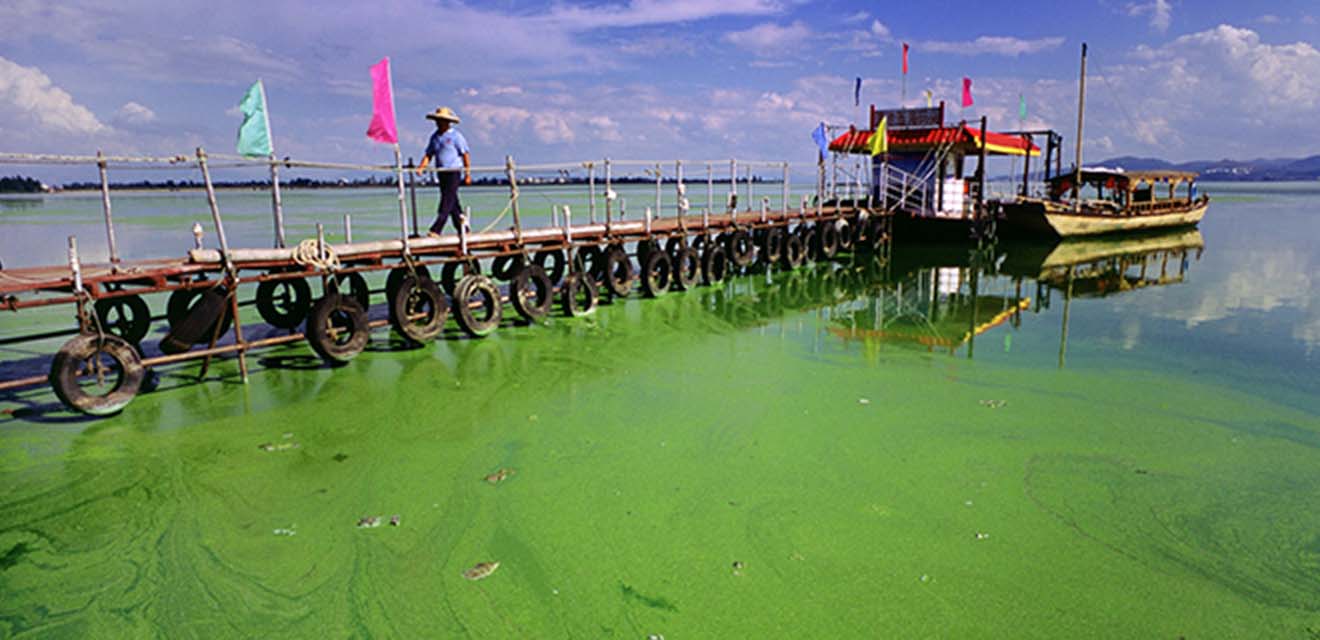 Australia in full bloom
With summer weather in Australia, warning signs began to appear all over the country. Red alerts have been announced for toxic blue-green algae at the Menindee weir, as well as for the Lower Darling/Baarka, all the way to the intersection with the Murray River.
The Menindee weir provides drinking water for approximately 600 residents. Right now, the water is turning green, as The Guardian reports.
People have been advised to avoid any contact with the water. Besides foul smells, residents further south do not have access to safe drinking water.
The situation is similar in Western Australia. Dr. Andrew Dickie is a medical microbiologist living alongside the Lower Vasse River. He's been expressing his concerns regarding toxin-producing organisms that have been linked to neurological disorders.
Andrew collected samples of blue-green algae, and is yet to determine whether they contain beta-methylamino-L-alanine (BMMA) – the toxin associated with motor neuron disease. Dr. Dickie explained that "up to 85 per cent of cyanobacterial species will produce toxins including BMAA."
According to professor of neurosciences Gilles Guillemin (Macquarie University), lakes and rivers in the Riverina area are also abundant in blue-green algae and cyanobacteria. He argues that "algae occurred more every year because of rising water temperature and the altercation of sulfate and phosphate used in agriculture that fed the algae."
Health warnings across New Zealand
Likewise, neighboring country New Zealand has also been facing water quality issues.
Marton is a town in the Rangitikei district, in New Zealand's North Island. The town's drinking water supply consists of two dams that are constantly being exposed to the environment. Hot summer temperatures have been stimulating algal growth within the dams, causing taste and odor issues in the drinking water supply.
"The water is still safe to drink, although we recognize that there may be an unpleasant taste and smell to our residents. We are currently looking for a long term solution to the problem." (The Bharat Express News)
Further, in Canterbury, officials warned people not to drink water from lake Pegasus under any circumstances. Dr. Ramon Pink (Canterbury DHB Medical Officer of Health) explained that the toxin cannot be removed despite boiling the water. (Scoop)
In other regions, such as Wairarapa and Kāpiti, popular swimming spots have been gravely affected. Ōtaki River and the whole of the Ruamāhanga River have issued amber alert level warnings.
"It's important we all scrub up on the facts, so we can all keep safe this summer, as toxic algae can be harmful to people and dogs", says Dr. Mark Heath (Senior Environmental Scientist). (Stuff)